Metal mesh gloves have modernized, but their roots are still woven together by thousands of individually formed metal rings. In the 1980s, almost all mesh glove manufacturers switched to stainless steel.
Stainless steel metal mesh glove for cut and slit resistance especially for the food industry having medium-sized cuff. This is specially approved for knife cuts.
Who uses mesh gloves and when?
Industries including textile cutting and sheet metal use mesh gloves for cutting protection. The most popular use is still food processing, and anyone who uses hand knives or cleans/moves slicer blades can (and should) wear mesh gloves.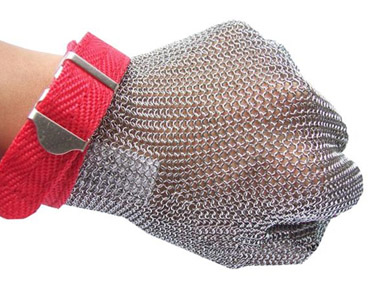 Stainless Steel Gloves
Hygiene issues
In most cases, mesh gloves are worn in slaughterhouses, food processing or food service environments, kitchens, or grocery stores - all places that come into contact with food.
In these environments, almost all tools and knives used are stainless steel. The same is true for many surface materials, shipping boxes, etc. Why? Because stainless steel is a non-porous material that is relatively easy to clean and does not harbor bacteria.
However, the original metal mesh gloves had a fabric strap around the wrist that held the glove tightly over your hand. With a fabric strap, you can introduce a porous material into a supposedly hygienic environment. Fabric straps are difficult to clean, and even after the most thorough cleaning process, they can become a place where bacteria can hide and grow.
That's why a new generation of metal mesh gloves without fabric straps was developed. By eliminating fabric straps, you reduce the risk of bacteria and cross-contamination. Premium metal mesh gloves can be secured to the wearer's wrist using a variety of stainless steel closure systems, including an adjustable hook design, without the need for fabric straps.
This helps facilities comply with USDA FSIS (Food Safety and Inspection Service) regulations, "All facilities must develop, adopt and implement a HACCP (Hazard Analysis and Critical Control Point) plan for each of their processes." In addition, FSIS states in its Sanitation Standard Operating Procedures, "All plants must prepare and implement plant-specific sanitation standard operating procedures (SOPs) to ensure they fulfill their responsibility to keep their facilities and equipment clean."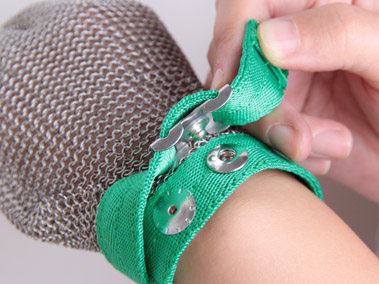 Stainless Steel Gloves
Should you wear metal mesh gloves?
Think about your task and its hazards.
According to a 2005 report by the U.S. Bureau of Labor Statistics, 25 percent of all injuries resulting from vacations are hand-related. According to the National Safety Council, the average cost per reportable hand injury is $4,200. BLS data shows that the combined medical and compensation cost for hand injuries is $8,500. (This includes everything from a few stitches to a ruptured tendon.) Even more worrisome: 70% of workers with hand injuries were not wearing gloves. For the remaining 30 percent, injuries were caused by using gloves that didn't fit properly or were worn out.
In the foodservice industry, OSHA estimates that medical costs, lost work time, and workers' compensation expenses for hand injuries in 2005 were approximately $300 million per year. According to the U.S. Bureau of Labor Statistics, in 2003, nearly 24,000 restaurant employees lost at least one day of work due to cuts, burns, or scalds, primarily to the hands.
For an accurate quote, get in touch with Linchuan Safety Protective Equipment with the details of your project. Our friendly team of experts can help you find the ideal solution to achieve the highest standard results.
Contact us at +86-15128166676 / +86-18632192156 or write to us at sales@lcwiremsh.com. We will be happy to help you out!