As an Airport Fence Supplier, share with you.

Highway fences are also called highway fences, traffic fences, highway isolation fences, and highway fences. In fact, it is just a change of name, and the essence is still fences. There is no difference in products. The editor will tell you about highway fence nets and airport fence nets below.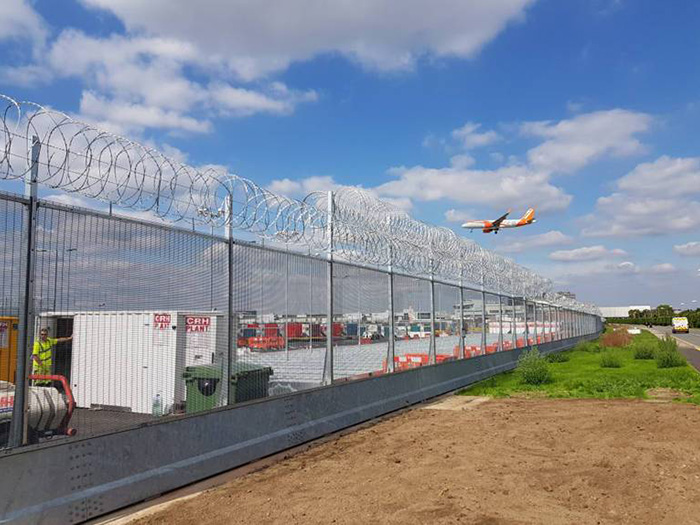 Airport Fence
Highway fence netting is the most common kind of fence netting products. It is braided and welded by domestic high-quality low-carbon steel wire and aluminum-magnesium alloy wire. It has the characteristics of flexible assembly, strong and durable, and can be made into a permanent mesh wall. In use, it can also be used as a temporary isolation net, and it can be realized by only adopting different column fixing methods in use. Highway fence nets are widely used on highways in many places in the country and have achieved good results.
The airport fence is also known as Y-type security defensive fence. It is composed of a V-shaped bracket column reinforced welded sheet net, a security anti-theft connector and a hot-dip galvanized razor barbed wire. The strength and security defensive level are very high. The airport fence is It is widely used in high security places such as airports and military bases. Note: If razor wire and razor wire are installed on the top of the airport fence, the safety protection performance will be well enhanced. It adopts anti-corrosion forms such as electroplating, heat, plastic spraying, dipping, etc. It has good anti-aging, sun-proof, corrosion-resistant characteristics. The airport fence is beautiful in appearance and diverse in colors, which not only serves as a fence, but also as a beautification. Due to the high safety, strong anti-climbing ability, the mesh connection method adopts special SBS fasteners, which effectively prevents man-made destructive disassembly, and the four horizontal bending stiffeners significantly increase the strength of the mesh surface.
Our company also has Airport Fence on sale, welcome to contact us.