Wire fencing is as flexible as it is secure. For commercial uses, on residential property, in agriculture, and more, wire fencing provides a cost-effective and simple solution that meets a wide range of security and safety needs.
Just as effective as keeping unwanted guests out of premises as it is at keeping livestock in, wire fencing is strong, durable, and low maintenance. It also provides plenty of choices, with different options available to suit specific requirements. Let's take a look at the main types.
Wire Mesh
Often referred to as chicken wire, wire mesh is a flexible option with unique hexagonal wrap-around holes. Not as strong as wire mesh, netting is a cheaper option and therefore a popular choice for home use and smaller properties.
It is perfect for keeping chickens and rabbits in cages, as well as protecting valuable berries from birds. Like mesh, netting is available in galvanized and PVC-coated versions for added durability.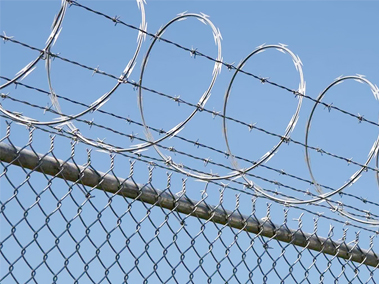 Razor Barbed Wire
Barbed Wire
The sharp barbs on this wire are an excellent deterrent for both people and livestock, which is why it is widely used for security and agriculture. For security purposes, barbed wire is often laid on top of other types of fences to prevent people from trying to climb over them. Full razor barbed wire is more common when enclosing livestock because they do not have the ability to climb between threads as people do.
Barbed wire is both flexible and secure. For commercial use, residential properties, agriculture, and more, wire fencing offers a cost-effective and simple solution to a wide range of security needs.
As effective as keeping unwanted visitors out and livestock in, barbed wire is strong, durable, and low maintenance. It also offers a wide range of options to provide different options to meet specific requirements.
Welded Wire Mesh Coils
In many ways, welded wire mesh rolls are the default wire mesh option due to their versatility and simplicity. They can be described as the prefabricated options of the wire mesh world - a roll of mesh, some fence posts, and clips that you have the necessary basics you need to throw up the fence immediately. The galvanized finish means that these fences are corrosion resistant and long-lasting in all weather conditions.
Coils of wire mesh are available in different heights, widths, apertures, and wire thicknesses, as well as PVC, finishes, offering different options in terms of strength, enclosure, and deterrence. This versatility means that mesh is used everywhere from backyards to industrial parks, from keeping pets safe to interior security, which is very common.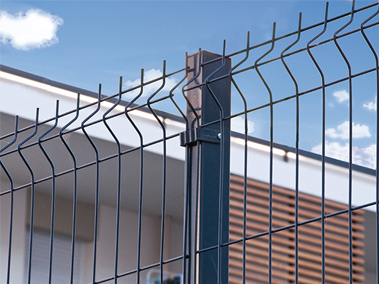 Welded Wire Mesh Fence
Welded Wire Panels
Welded wire panels are manufactured in a similar way to mesh rolls and are supplied in ready-made galvanized steel construction for quick installation. The main advantage is that the mesh panels are semi-rigid, providing additional strength. Some people also find the panels easier to manage, which makes them popular for certain types of large installations, such as industrial and commercial sites.
In addition to galvanized versions, PVC-coated wire panels are also common. Because these panels are galvanized before being coated with green PVC, they have a double layer of protection and a smooth finish, which means there are no sharp edges or barbs on the final fence. This ensures safer use around children or animals.