Barbecue Grill Netting
A grill mat turns your outdoor cooking station into a full-service kitchen in which you can prepare everything from bacon and scrambled eggs to scrambled vegetables. Even if you're just planning to grill a few burgers, cleanup will go much smoother when you set the mat down first. But is a grill mat safe to use? Read on to learn the answer.
Non-Stick BBQ Grill Mat - Summary
Is there safe non-stick cookware? Well, don't let your pans or grill mats get too hot. Always use them at a medium temperature - 150-200 degrees Celsius or low heat. Avoid using metal tools on non-stick surfaces. Wash them with soap and water, do not use abrasives. Store them carefully to avoid scratching. Stop using them when the surface starts to degrade. If you do this, then the answer is yes, safe non-stick cookware does exist.
Barbecue Mat - Definition
Grill mats are solid materials (usually non-stick) that can be placed on the cooking grates of any type of grill. They are designed to provide an even cooking surface, thus increasing the versatility of the grill.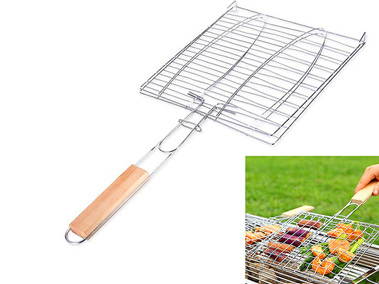 Barbecue Grill Netting
Grill mats - the benefits
Grill mats are more beneficial than using foil or a baking sheet. With grill mats, you don't have to worry about the foil coming apart when you flip your food. They provide a clean cooking surface and don't leave a mess afterward.
Grill mats can operate at temperatures up to 500 degrees Fahrenheit (260 degrees Celsius). BBQ grill mesh mats have a non-stick surface and can be cut to any size or shape. They are top-rack dishwasher safe, or you can hand wash them.
Barbecue Mat - Application
Barbecue grill wire netting is mainly used in camping, tenting, military, and travel. Barbecue grill wire netting is based on crimped wire netting, surface treatment with zinc coated or chromium-plated. Barbecue grill wire netting enjoys bright color and good structure.
Buy the best barbecue grill netting, click here.

BBQ Pads - Use of Tools
One area where people tend to get careless when using non-stick cookware is their choice of tools. It's easy to grab any handy tool and start scraping away at your Teflon pan or grill mat. Never use metal tools on PTFE materials. It will scratch the surface and weaken the integrity of the non-stick coating. Use a wood or plastic tool with silicone or PTFE coating or a metal tool.
BBQ Pads - How to Use
Step 1
Before you light your grill, you should remove your grill mat and wash it in warm soapy water. You may want to use some olive oil on the cooking surface before you use it for the first time, but you can do without it. It can help prevent certain foods from getting too hot and sticking.
Step 2
The next thing to do is to light your gas or charcoal grill. Remember that a grill mat works for any meat or side dish, so don't limit your options. Place the grill mat on the cooking rack and make sure the temperature stays below 500 degrees.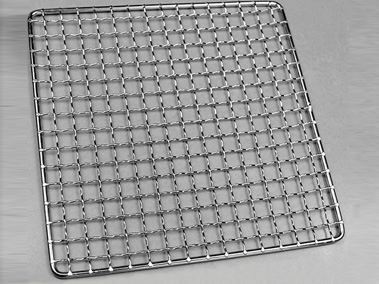 Barbecue Grill Netting
Step 3
Place the food directly on the mat and grill as usual. Avoid using metal utensils as they may damage the structure of the mat or cause an explosion. Always use silicone or plastic accessories that do not have metal tips.
Step 4
When you have finished cooking, remove the meat from the cooking rack and wash it in soapy water or place it on top of the dishwasher. Clean it each time you use it for the best results.
Non-Stick BBQ Grill Mat - Service Life
The life expectancy of a non-stick grill mat is about three to four years, depending, of course, on how often you use them and what you actually use them for. Use the grill pads carefully and remove them when the coating shows signs of breakage. Grill mats advertised as having an extra PTFE layer will last longer and hold up better, and our premium rigid grill mats are the thickest and strongest on the market, but be prepared to pay more for them.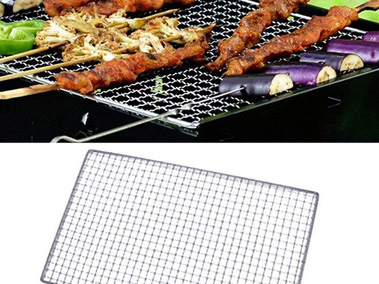 Barbecue Grill Netting
Non-Stick BBQ Grill Mats - Clean
One of the biggest selling points of these products, especially the PTFE sheets or grill mats, is the ease of cleanup. Usually, you can wipe them off with just soap and water. At most, you'll need to soak them first but resist the temptation to scrub or wipe them down with Post-it notes, powdered cleaners, or any type of abrasive. It will create hundreds of tiny scratches. These will cause premature damage to the PTFE fabric.
Click here for more information on cleaning methods for your BBQ!
Please refer to this article: How To Clean Barbecue Grill Mesh?
If you want to get more information about the barbecue grill netting, welcome to contact us today or request a quote.